Former President Donald Trump said the FBI raid on his Mar-a-Lago home in Florida was politically motivated, and that the Democrats had been known for using the Department of Justice to sling mud at Republicans.
"The RAID was Politics, the Midterm Elections, and 2024. It's another form of Election CHEATING - That's all the Radical Left Democrats know what to do. They use the FBI & DOJ to try and dirty up their opponents, but the people of our Country are wise to them like never before. Be careful what you wish for!" Trump wrote in a statement on his Truth Social platform on Aug. 13.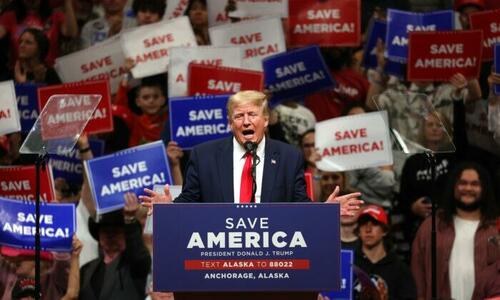 Former U.S. President Donald Trump speaks during a "Save America" rally at Alaska Airlines Center in Anchorage, Alaska, on July 9, 2022. (Justin Sullivan/Getty Images)
FBI agents seized about 20 boxes of items during a raid of Trump's resort on Aug. 8, along with documents marked as confidential, classified, and top secret, according to a warrant and a property receipt unsealed by Judge Bruce Reinhart on Aug. 12. However, Trump has said that the documents were "all declassified."
The warrant said the FBI was investigating the former president for possible violation of three different laws, including one that prohibits gathering, transmitting, or losing information related to national defense under the Espionage Act.
The FBI raid has significantly boosted voter enthusiasm. According to a survey released by the Convention of States Action and The Trafalgar Group, 83.3 percent of Republicans, 71.7 percent of Independents, and 55.2 percent of Democrats said the raid increased their motivation to vote in November.